Picking Your First Sex Toy
Picking out your first (or second) sex toy can be an intimidating process. With so many toys on the market it can be hard to decide which product you want to purchase. Our staff has picked out toys that are both unique and perfect for introducing sex toys into your bedroom – something we encourage everyone to do! Sex toys allow you to experience new sensations, sex positions, and even different types of orgasms! 
It's hard to deny that the Pixies Teaser is one of the best entry level toys on the market. Featuring an ultra-soft head made of sensual liquid silicone and 10 vibration speeds the Teaser is uniquely curved to reach all your pleasure points with pinpoint precision. The discreet size allows you to take the Teaser with you wherever your desire may lead. Boasting an impressive 2-hour battery life and easy touch button control, the Pixie Teaser is sure to satisfy anyone! 
Pairs best with: Alchemy LoveWater
Dedicated entirely to exploration, the Her Finger Vibe is an incredible addition to anyone's toy collection. With one button operation and 10 intense vibration patterns this vibe feels great on any part of your body! Try placing the vibe on their nipples or thighs before using it on a clit (or even a penis!) This toy is great for solo use or couple play.
Pairs best with: Alchemy Spark for Her Arousal Gel
For penis owners, cock rings are often the best introduction to sex toys! The OptiMALE 3 C-Ring Set helps keep you harder, longer. Whether you want this effect because you suffer from E.D., you want to last longer, or simply because you want to really impress your partner, this product is sure to satisfy! This pack offers three different sizes so that you can ensure you get the perfect fit. Rings are made of ultra-stretchable silicone.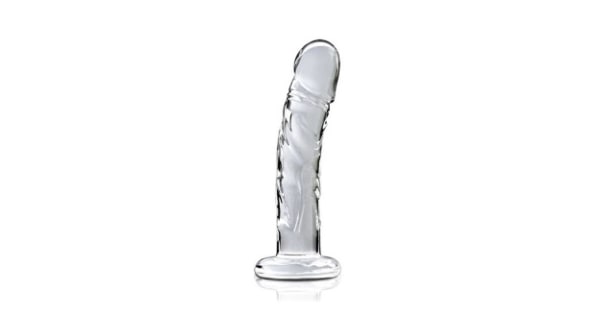 The Icicles No. 62 Glass Dildo is a perfect toy for newbies and toy enthusiasts alike! This luxurious glass toy features a tapered tip to ease insertion and a pronounced head with a slight upward curve designed to hit all the right spots. The curve allows for precise G-Spot or prostate stimulation ensuring mind-blowing orgasms for vagina & penis owners alike.
Pairs best with: Alchemy Silicone Based Lube
BONUS: Try placing the toy in hot water or the freezer prior to use to play with different temperatures!
The California Dreaming West Coast Wave Rider is made of body-safe silicone and is fully waterproof! This toy features a powerful rotating G-Spot massager built into the head of the device for precise targeting. The triple-fluttering teaser stimulates the clitoris while the toy is inserted. This toy is perfect for giving your partner a blended orgasm.
Pairs best with: Pink Pussycat Female Sensual Enhancement
If you're looking for a toy for penis owners look no further than the Ultimate Head Exciter. Just slide inside and power up to experience pure pleasure! Featuring 3 speeds of thrusting and vibrating action along with a textured stroker sleeve this toy is a masturbation game changer.
Pairs best with: Hung Max
Our list wouldn't be complete without the Intimate Essentials Rechargeable Love Wand. Whether you're looking to unwind after a long day or craving an extra jolt of pleasure, the Rechargeable Love Wand massager is here to satisfy. This toy is versatile enough to be used on any part of your body and its vibrating action is sure to deliver pleasure exactly where you want it most. Try it as part of your foreplay or even as your main course.
Pairs best with: Alchemy Spark for Her Arousal Gel
While you're here, why not take a look at our Amazing Sales?